QUALITY CONTROL RESELL USED TIRE & WHAT YOU NEED TO KNOW
The used tire industry has been growing steadily over the last 5 years in the United States and through out the world. The US economy is the known driver of our used tire industry and expectations are for even more substantial growth in the next few years to come. At any one time there are countless millions of used tires in operation on US roads and highways everyday and used tire dealers have become a focused and trusted necessity to the everyday American driver.

The RMA Used Tire Industry Standards and USDOT promote and require certain guidelines be followed to insure a safe and reliable used tire for vehicle operation. USA Tire Recycling, standard used tire is the Quality Controlled Re-Sell Used Tire that exceeds the expectations of the industry standards and guarantees our used tire dealers have the best quality used tire product available to offer their valued customers when they need it.

WHAT IS A QUALITY CONTROLLED RE-SELL USED TIRE AND WHY ARE DEALERS WANT IT!

Used Tire Dealer with professional integrity and service confidence sells it
A stringent quality controlled and inspected used tire ready for re-sell
Good customer relations with used tire warranties you can stand behind
Dependable used tire life and performance, better value to your customer
Safer more reliable quality used tire increases your customers' confidence
Increased used tire sales, services, returning customers and good referrals
Quick ID of repairable punctures or embedded objects in the repair area
Faster more efficient and profitable used tire operation (No Surprises)
No loss time, labor and shop expense associated with a bad tire
No upset customer returns or replacements because of a bad tire
No additional tire disposal expenses or exchanges from bad tires
No re-handling labor, transportation, storage or return of bad tires
No load headaches, re-negotiations or scrap percentages to deal with

QUALITY CONTROLLED RE-SELL USED TIRE CAN ELIMANATE THE FOLLOWING PROBLEMS

Tire tread area band and/or steel separations
Tire tread and sidewall severe cracking, dry rot and abnormal wear
Unseen repairable tread area punctures, nails and foreign objects
Tire tread edge punctures, cuts or splitting
Tire tread edge imbedded nails or other foreign objects
Unseen tire bead tearing or damaged tire bead edges
Unseen tire sidewall punctures, gouges or cuts
Unseen tire sidewall bulges from under inflation and separation damage
Unseen tire sidewall slashes or zipper tearing
Used Tire Facts for Tire Dealers It is estimated that used tire dealers operating standard and/or multiple or volume shops experience individual losses of revenues, labor, paid inventory and limited retail hours every month from dealing just with bad tires. These losses are not only frustrating but can result in real out of pocket expenses of hundreds or even thousands of dollars from your bottom line every month. It's also estimated that used tires sold across the market that do not have a verifiable inspection process can cost used tire dealers sometimes as much as 15% in un-sellable used tires when received at their shop.

Most of the time, this is an un-reclaimable loss or an added expense to dispose of or to return the bad tires. The small used tire supplier losses to the tire dealer from bad tires can be even higher because there collection of used tires generally comes from mechanic shops, salvage yards, small car lots and junk piles where they have been exposed to the elements for long periods of time. There a saying shared by used tire men that says "If the tire looks that good, It's probably not" unless it a Quality Controlled Re-Sell Tire from USA Tire Recycling.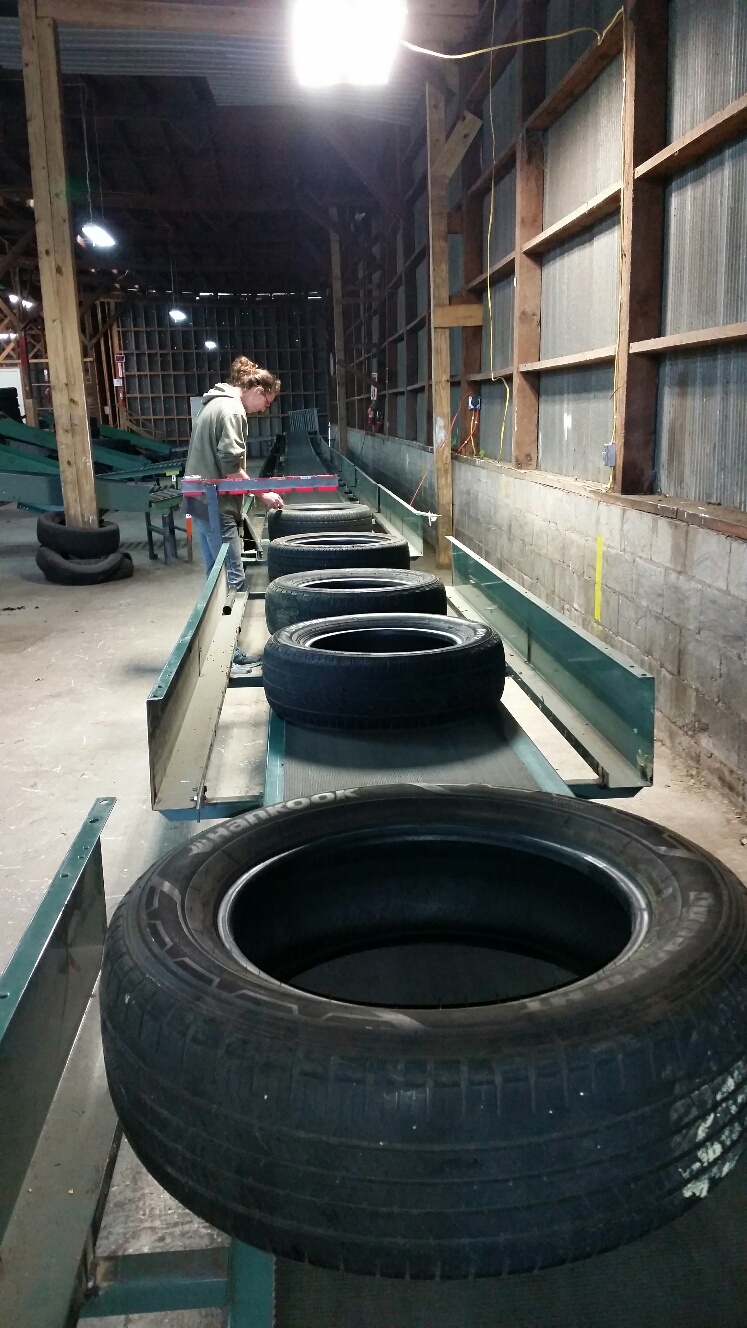 USA TIRE RECYCLING / Tire Processing System
USA Tire Recycling Quality Control A, B, C, System is a step by step process made up of several check points to insure that every tire sold as a Quality Controlled Re-Sell Tire "Is What It Is". Only high tread tires receive a mechanical air check during normal quality control. This type of "Hands-On Approach" to achieving a quality end product for the used tire industry is innovative and unique in dealing with a commodity sold by the millions every year.

Our nationwide tire recycle programs afford us thousands of tires every day that we first sort through by hand. We then visually choose only those used tires our inspectors feel will make it through our rigorous quality control program.
The tire is then processed through a "US Patented" automated and manual 360-Scan tire inspection conveyor system that includes a mechanical tread check . A finale inspection is conducted and then the tire is tagged with a rim and tire size, grade code, tread code and moved to the inventory department ready to sell and/or ship out.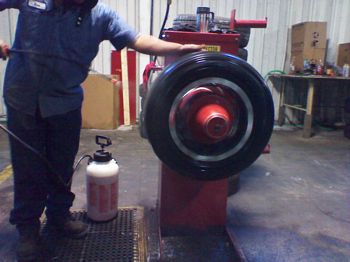 QUALITY CONTROL STEP A
Our quality control tech's go through a variety of training programs and are constantly tested on their ability for program consistency. After a used tires goes through our sorting process and is determined a good candidate for quality control, it is staged in the quality control process area.
Step 1: the QC Tech will first take the tire and place it on the mechanical inflator for an air check. He then will inflate the tire to a tire pressure range to simulate the tire under beaded air pressure.
Step 2: He then will determine if there is any large leaks or gaps on the tire by listening for air escaping as he rotates the tire on the inflator.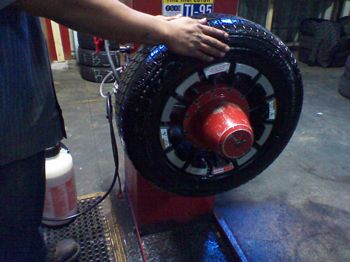 Step 3: He then will spray a soap type solution, coating the entire tire so that even the smallest leak can be readily identified.
Step 4: He then will slowly rotate the tire checking by hand for any punctures, tearing or damage on the tire tread area, sidewall and bead area on both sides of the tire. Note: If a used tire is found to have any sidewall damage, tire edge damage, bead area damage or a puncture or foreign material located outside of the repairable tread area, it will FAIL! A failed tire will not be sold and be sent to our recycled tire scrap facilities.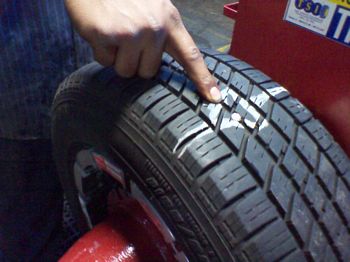 QUALITY CONTROL STEP B
Any tire shop knows that the tire repair services for used or new tires is good business when done correctly. Our part as a dependable supplier to our tire dealers is to inspect all our tires for repairable damage in the repairable tread area of a used tire set by RMA Industry Standards and USDOT. In our normal recycle process of used tires, we will receive tires that will be in very good condition with extensive tire life left but will require a repair before it can be sold to a driver.
This Step B Process enables our used tire dealers to quickly spot necessary tire repairs when they receive there shipments and separate them from their other inventory till they have been repaired in their shop.
Step 1: the QC Tech will visually and/or hand inspect the used tire while it is on the mechanical inflator and identify any punctures and/or foreign objects that can be repaired under normal repair service conditions.
Step 2: If he identifies a repairable point on the tire in the repairable area, he will paint mark the location for a quick ID by the used tire dealer, saving them time and surprises during the tire mounting and balancing retail operation.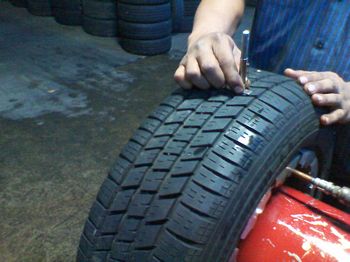 QUALITY CONTROL STEP C
One of the most asked questions from our used tire dealers is how much tread is on the tires, how much life is left, what's the tread percentage? Here is the answer; We have a massive amount of used tires we receive through our recycle program on a monthly basis, averaging 3000 to 4000 tires per day and we are in a constant mode to improve our used tire process.
Due to the sheer volume we handle, we do not sort tires by grades for mix loads unless specifically stated and sold that way. We follow the RMA Used Tire Industry Standards and USDOT for tread Grades of D, C, B, and A when determining a tread check on a used tire.
Step 1: the QC Tech utilizing a professional tread gauge, will perform a random tread check on the used tire during the final stage of the quality control process to insure that the used tire is a minimum C Grade which is our standard selling mix grade. A measured C Grade is noted at 4/32's to 6/32's of measurable tread. Our mix loads will include an unspecified amount of higher tread grades of B's and A's, but be sold as a total mix load of C Grade Quality Controlled Re-Sell Used Tires.