PICK AND CHOOSE WAREHOUSE #4 WENDELL NC

USA Tire Recycling is proud to announce full operations for our 60K Sq. Ft. of "Pick and Choose" Warehouse #4 at 104 E. Second Street, Wendell NC 27591 This is the largest display of quality wholesale used tires available directly to tire dealers in the South East with over 100 lanes of quality used tires available directly to our registered tire dealers.

The new Wendell DC is also a Wholesale Distribution Center for used tires in North Carolina and will also offer bulk tire service for our standard mix loads for TL and LTL delivery or pick-up service to all tire dealers within reach. Our Wendell NC Pick and Choose warehouse is open and operational from 7am to 5pm Monday through Friday, ready to accommodate the needs of our valued used tire dealers.

Our Wendell NC, Pick and Choose Warehouse #4 is conveniently located just off HWY 64 (Wendell Blvd.) HWY 64 connects to I540 and I440 beltway, to I40 East and West, I85. The P&C warehouse #4 in Wendell 27591 NC is one mile from (I264 / I495) and just minutes from the I95 corridor The Wendell Warehouse #4, 27591 NC DC is also a "Pick and Choose" 60K Sq. Ft. facility enabling the used tire dealer to select the grade, size and quantity of used tires to fit their budget and inventory needs from over 100 organized rows of quality used tires to pick and choose from. Minimum 25 tire purchase, mix and match for Grades C, (High Tread / B and A) in rim sizes from 14, 15, 16, 17, 18, 19, 20 and variety of sets, pairs and clearance inventory at different grade levels and prices will be offered when available.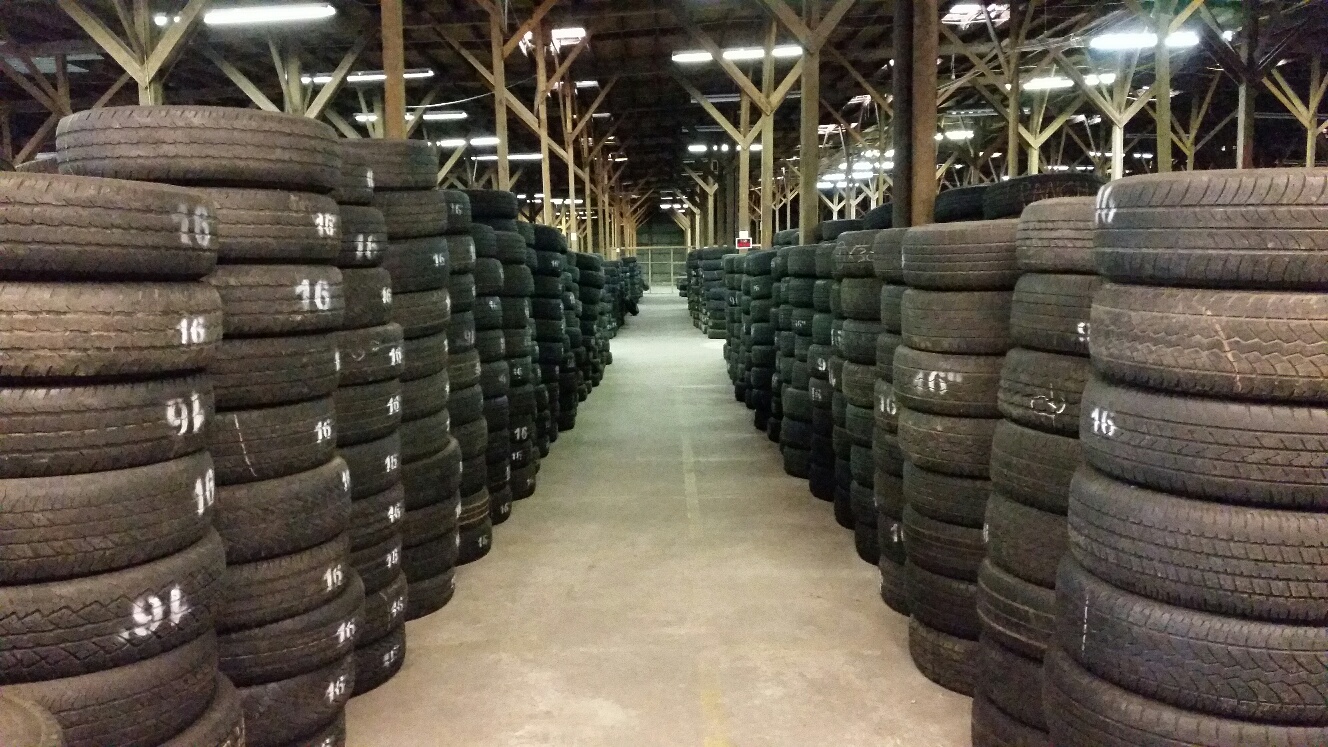 In House Tire Specials and Clearance Items will be offered when available. All used tire inventory is "First Come, First Serve" with no reserves and restocked according to our regular recycle flow of inbound loads of used tires arriving daily. There are no limits on purchases of tire sizes, rim sizes or tire grades.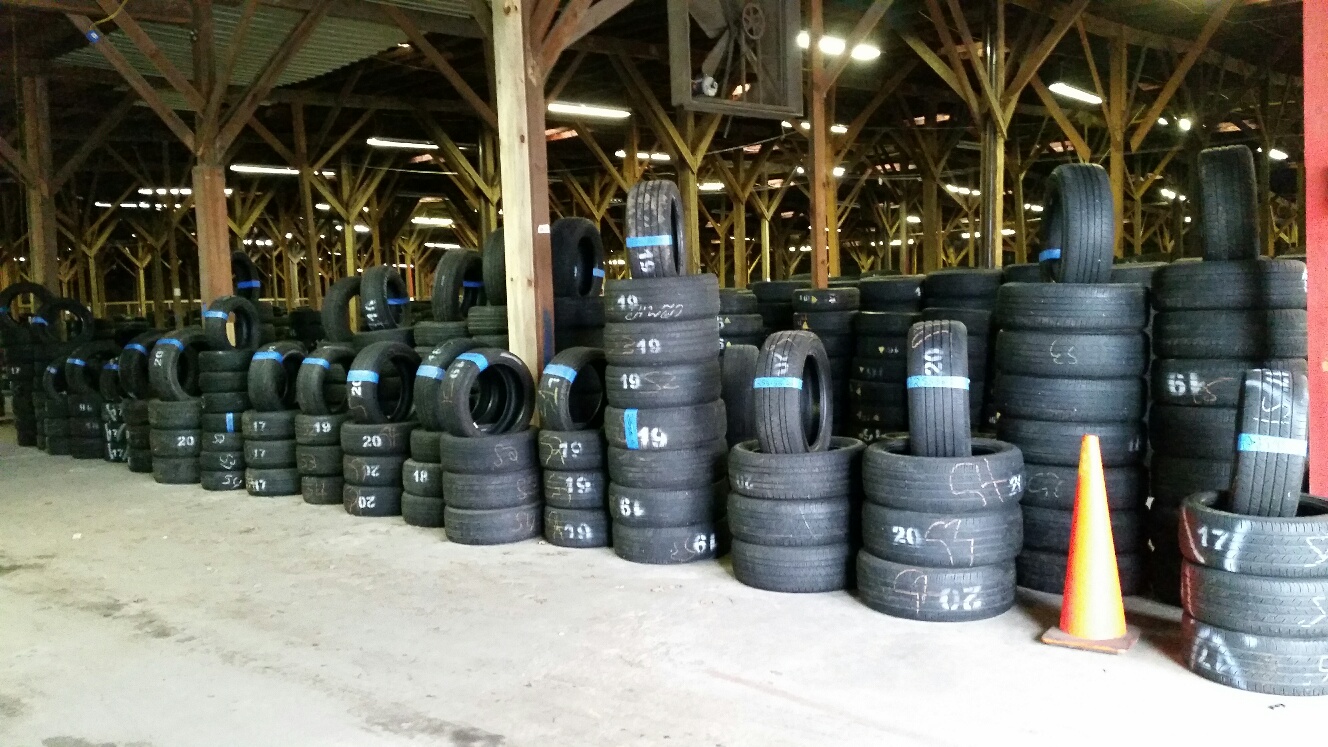 Regular Pick and Choose FOB pricing per tire will range from $4 to $14 per tire depending on grade and rim size with a 25 tire mixed purchase minimum. Additional volume price breaks are available for regular mix load purchases of 100 tires or more. Our LTL truck delivery is available to our tire dealers starting at just .75 a mile to North Carolina, Virginia, South Carolina, Georgia, Kentucky, Tennessee and Maryland. Learn More

This innovative used tire idea has been a real game changer in the used tire industry for the individual used tire dealer. Nick named the "Sams Club for Used Tire Dealers" and utilizing inventory management systems in a 60K Sq Ft. warehouse with almost 100 organized rows of stacked, sized, graded and tagged used tire inventory ready to go.

The used tire dealer picks and chooses only the used tires they need and want including tire sizes, tire grades, tire sets, tire specials and tire clearances'.
Our warehouse team gathers your used tire choices, checks you out, loads you up in your truck or ours if delivery is requested with only a 25 tire minimum.

PICK and CHOOSE Warehouse Pricing: Learn More Current daily pricing with a 25 tire minimum purchase for direct customer pick-up or delivery from 25 tires up to 500 tires is available for the same price Learn More .

Clearance Used Tires (Over Stock) $4.00 per tire / C Grade 4/32s to 6/32s / Sizes 16in, 17in, 18in, 19in, 20in as available (LTs and LPs included)

Standard Used Tires $6.00 per tire / C Grade 4/32s to 6/32s / Sizes 18in, 19in, 20in as available (LTs and LPs included)

Standard Used Tires $9.00 per tire / C Grade 4/32s to 6/32s / Sizes 16in, 17in as available (LTs and LPs included)

Standard Used Tires $11.00 per tire / C Grade 4/32s to 6/32s / Sizes 13in, 14in, 15in as available (LTs and LPs included)

Extreme LPs Used Tires $6.00 per tire / C Grade 4/32s to 6/32s / Sizes 21in, 22in, 24in, 26in, 28in, 30in as available

High Tread Used Tires $14.00 per tire / B/A Grade 7/32s to 22/32s / Sizes 16in, 17in, 18in, 19in, 20in as available (LTs and LPs included)

C Grade SETS - Used Tires $45.00 per tire set / C Grade 4/32s to 6/32s / Sizes 15in, 16in, 17in, 18in, 19in, 20in as available (LTs and LPs included)

High Tread SETS - Used Tires $65.00 per tire set / High Tread Grade 7/32s to 22/32s / Sizes 16in, 17in, 18in, 19in, 20in as available (LTs and LPs included)

SEMI Truck - Used Tires $50.00 per tire / DOT Grade 4/32s to 28/32s / Sizes 19.5in, 22.5in, 24.5in / Steer and Drive as available (11Rs, LPs, Virgin RG included)

OTR / Construction / Farm - Used Tires $50.00 to $100 per tire / 15/32s and up / Sizes varied as available

Warehouse Operational Hours Are : 7am to 5pm / Monday through Friday Office Hours Are : 9am to 5pm / Monday through Friday
Payment Methods Available are : Cash, Cashier Check or Credit / Debit Card (ALL Payments made with a credit and/or debit card will incur a 3.00% service charge on the total sale and will be added if applicable to invoice at time of payment)

Our Warehouse's Are Not Open To The General Public! Tire Dealers must have a dealer account with USA Tire Recycling to tour and/or purchase tires from any of our warehouse distribution centers. Walk-In New Dealer Registration is available at the Wendell Warehouse #4 Only during normal office hours from 9am to 5pm M-F (Photo ID and Business Verification Required)

New Tire Dealers and Exporters Only, Please go to the information links on any USATireRecycling.com web page and submit the "New Dealer Registration" form to get started or call us at 919-341-5550 during normal office business hours for more details or information. M – F 9am to 5pm Thank You from USATireRecycling.com where "Everybody Rides On Used Tires"